Vejtables-Hide Yourself" b/w "Good Things Are Happening"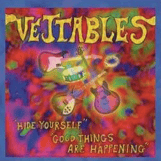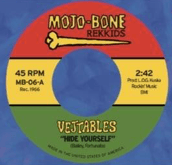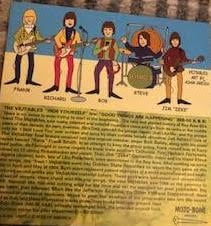 Brand new limited edition vinyl 7"—only 750 copies pressed!
Californian legends THE VEJTABLES should need no real introduction here, starting out on the equally legendary Autumn label (home to the Beau Brummels, Mojo Men etc). Their 1st 45, "I Still Love You" (produced by Sly Stewart aka Sly Stone) was a sizeable national hit in late '65, a fantastic combination of folk rock and British Invasion sounds. Another single followed with less success, then sadly the label folded, leaving the group in a state of limbo.
After some personnel changes (including Richard Fortunato, ex-Preachers, and pre-WC Fields Memorial Electric String Band/ESB), they recorded some more sides at Golden State Recorders in April/May '66, this time in a more experimental, proto-psych style. From these sessions, another single emerged—"Shadows" b/w "Feel The Music". Recorded at the sessions—but unreleased at the time—were the 2 sides on this record. First issued by Big Beat in 1994, these new masters are previously unreleased mono mixes, taken from the original studio acetate.
Includes super-cool double-sided insert.
Late 60's Garage and Psych previously unreleased on 7" Vinyl.
Authorized, Legitimate, Hi Quality, 45's, Pressed and Printed in the United States of America. Mojo Bone Records