Night Owls -Aint That Loving You/Are You Lonely For Me Baby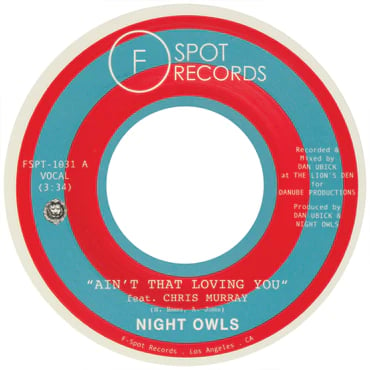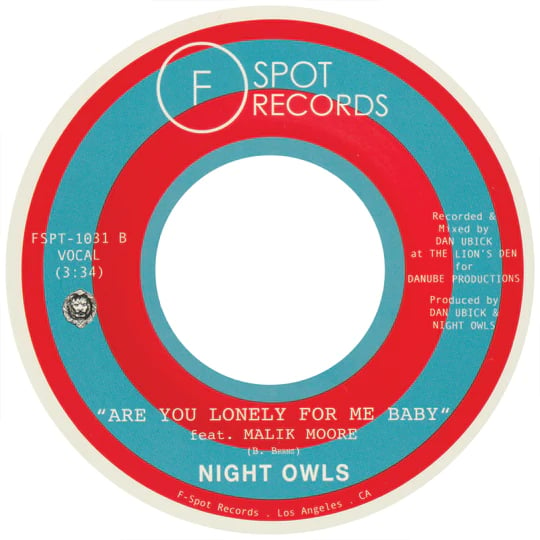 It's a Night Owls sound system takeover once again, bringing the band's unique Jamaican twist on classic soul hits to listeners worldwide. Not too long ago, Night Owls graced us with their best-selling 45 to date, yet somehow they've managed to raise the bar once more with their next offering; "Ain't That Loving You (feat. Chris Murray)" b/w "Are You Lonely For Me, Baby (feat. Malik Moore)" on the flip.
Side A features Johnnie Taylor's Stax classic "Ain't That Loving You" flipped on its head, taking this sweet ballad to new dancehall heights. The song has a long history with Jamaican music having been covered by legends like Alton Ellis, Prince Buster, U Roy, Delroy Wilson, Hortense Ellis and Dennis Brown and, in America, by Black Moses himself, Isaac Hayes. Night Owls' version sits somewhere in between the classic versions with a hot and heavy feel aimed at getting you on your feet. Calling upon former King Apparatus singer, Slackers cohort and Ska troubadour Chris Murray, Night Owls have perfectly balanced their tough-as-nails riddim with Murray's soulful and sympathetic vocal delivery on top. "Ain't That Loving You" comes complete with catchy organ riffs, classic syn-drum hits and backing harmony support from special guest, The Expanders' John Butcher.
Side B is a corker too, with longtime friend and collaborator Malik Moore (The Lions, The Bullets, Ocean 11) truly owning the soul classic, "Are You Lonely For Me, Baby", originally released on Bert Berns' legendary Shout! label in 1966, with his commanding reedy and soulful tenor. Whether it's the Freddie Scott or Al Green version you know best, Night Owls bring you a fresh and fiery take on the song by adding their signature bounce, based loosely on U Roy's "Stick Together" riddim, while keeping the presence of Scott's original alive and well thanks to Moore's deep and immediate delivery. "Are You Lonely For Me, Baby" also features the iconic backing harmonies from Night Owls' #1 on call soul sister, Destani Wolf.
Produced by Dan Ubick and Night Owls. Recorded and Mixed by Dan Ubick for DanUbe Productions at The Lions Den in Topanga,CA.
F-Spot Records