Aladean Kheroufi - Love!... (Is The Answer) b/w Every Girl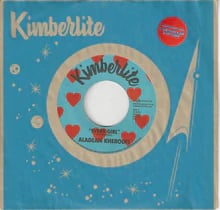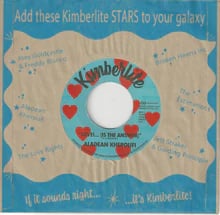 There was a night that sticks out in my mind as I'm writing this. Aladean was over at my place, we were listening to soul records and having some drinks. From beer and Barbara Lynn to tequila and Thomas East if my memory serves… but that's unreliable at best. Specifics of the night are blurry, but what really stuck with me since then was the running topic that carried the conversation for the entire evening: a profound passion for love songs.
This record leads with Love!… (Is The Answer), a ballad in line with Aladean's espoused ideology. Velvet vocals, a playful swing to the drums, and intimate exchanges between guitar and keyboard tease at yearnings which harmonizing backing vocals satisfy with exultation. This isn't a simple love song proclaiming romantic feelings for just one person, this is a grand gesture that declares love for everyone. This is therapy, philosophy, and a recipe to get through hard times. This is help we all need.
Were the leading side to be foreplay, then the other will bring you to an earned climax. Every Girl hits with a force that will shake you and sets a rhythmic pace that may break you. Reminiscent of Mr. Mayfield's Move On Up, horns punctuate percussion and bass that are only just barely constrained. This is an expression of pure joy and an exploration of the heart's governance.
These two sides serve both as a testament to the glory of love, and as physical representation of a true labor of love. Cutting through the profundity though, our biggest hope is that you just love this music.
Kimberlite Records